It is with deep sadness that we share the passing of Erika Luckett on October 24th, 2018.
She lives on in our hearts as the music and love she shared everywhere she went.
Erika's Luckett's Celebration of Life
Columbus Center for Spiritual Living, November 15, 2018
Erika's new form in the universal spirit as the dancing orb.
Look to the bottom left of the moon. Erika is the dancing ball of light between the lamp post and the moon.  Swooping in on us as we left the hospice building.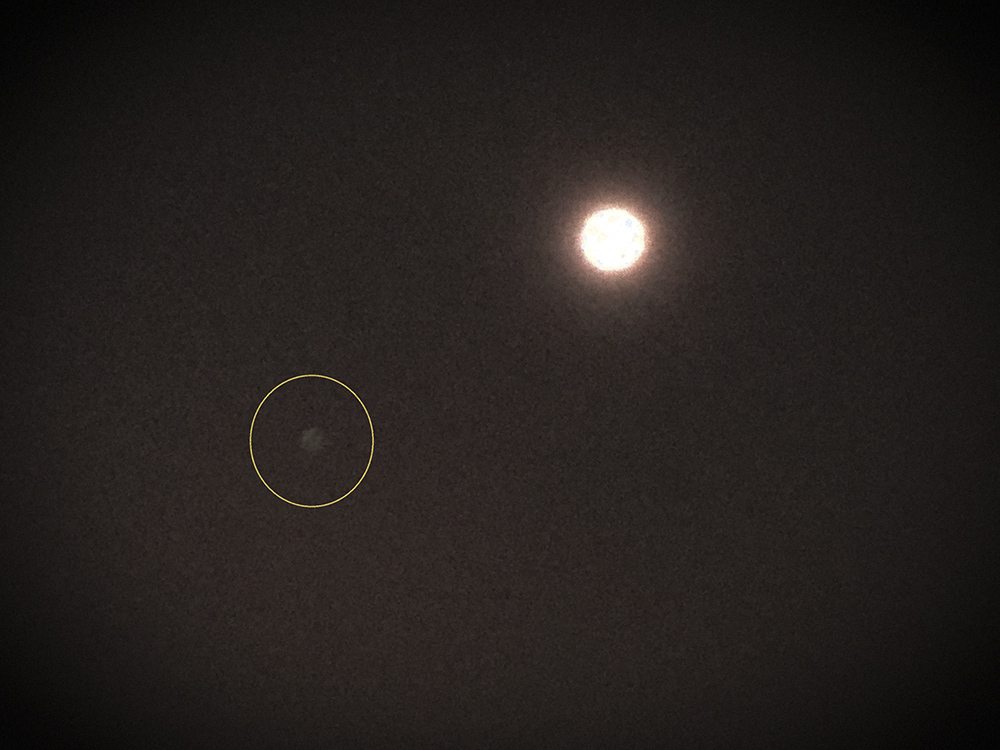 The video couldn't get the HUGE sphere of light around her orb.  Erika's orb is much brighter than it appears here as well.
Rumi said:
Be watchful when the moon us full.
The moon appears for travelers at night."
(From our song, Don't Go Back to Sleep, on the Ruby CD.)
Erika never went unconscious and did not go to sleep as she passed. She was awake and communicating during her transition. The entire hospice center shared that they'd never before witnessed anything like the connection we had to each other nor the complete conscious way Erika was the entire time.  She was still eating little bits of food and sipping water the morning of her transition.
Erika asked for her guitar Around 11:00 the day she passed, the word Breath came into the conversation which prompted Christie Hardwick to read a poem called Breath.  Erika asked for her guitar…She asked me to sing Breath as she played it. When she came in with some singing, I harmonized.   Breath is the first song we sang together and ended up being the very last one too.
I will add more to this experience in the days ahead. 
Erika Luckett is still very much present and always will be through the lives she touched and the hearts she ignited.
DONATIONS in Erika's honor:
Many of you are asking about where send donations in Erika's honor.   Erika and I have always been clear that we were always more interested in consciousness than cancer.  Our ministry serves many around the globe and we'd like to grow the joy and feed the world with our  "sonic nourishment." ™
Erika requested that all donations to go to Pranavasonic, which is our music ministry and 10% will go to our 501c3 non-profit: SoulCall which serves to minister through music and meditation.  Our vision is to have a retreat center of our own.  You can help us realize this vision.
To send a card of  love and support,  a donation check or  letter to Lisa please mail to:
Lisa Ferraro
PO Box 254
Worthington, OH 43085
Erika has scored music for a number of films and theater projects many of which garnered awards including an Academy Award nomination (Untold Stories dir. D. Fadiman 1993), two Emmy awards (Untold Stories dir. D. Fadiman 1993, From Danger to Dignity dir. D. Fadiman 1994) and over 30 other industry honors.
She has composed and produced music for the multimedia, animated version of Stellaluna (J. Cannon) which was honored by Newsweek Magazine with a Pick of the Year Award (1994) for Best Children's Multimedia
Erika has performed nationally and internationally with her world fusion band, Wild Mango, at celebrated festivals like the Monterey Jazz Festival, the Aspen Jazz Festival and the Barbados International Jazz Festival.
Erika's award winning albums include:
Album of the Year – 2006 (JPF Music Awards) –Unexpected
Best Female Singer/Songwriter Album 2006 (JPF Music Awards)- Unexpected
International Music CD of the Year -2006 (World Arts Celebrities Journal) – Unexpected
Best Art and Design 2004 – (Nashville Music Awards) –The New Orleans Sessions
Best Independent Release of the Year 2002 (Acoustic Guitar Magazine) – My Little Crime
Best Jazz Vocal Album 2002 (JPF Music Awards) – My Little Crime
Best Cabaret Album 2001 (JPF Music Awards) – Tinted Glass
Erika has been honored as One of the 100 Most Outstanding Women of the Year – 2005 by both the Jewish Post and Modern Woman Today Magazines.
In March 2008, she performed at the 20th Anniversary Nobel Peace Prize Forum.
In December 2009, Erika and Lisa perform at the Parliament of the World's Religions in Melbourne, Australia. Together, they have performed hundreds of concerts across the US and Canada.
Erika is fluent in English, Spanish, French, Portuguese and Italian.
Endorsed by Taylor Guitars and D'Addario Strings.